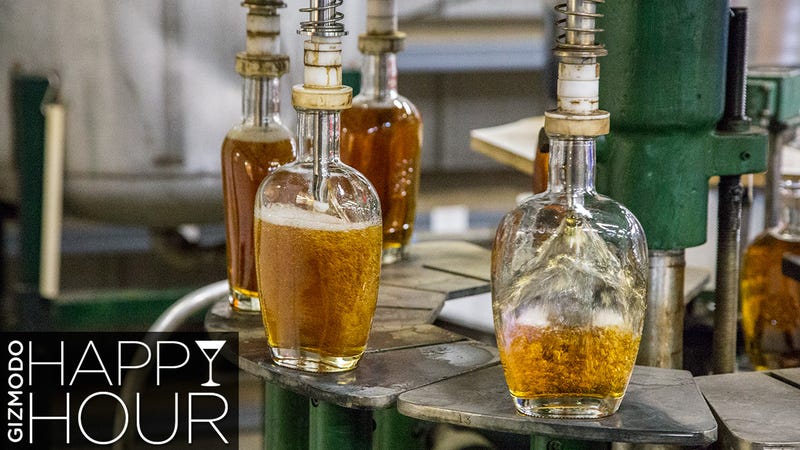 If there's one thing the Gizmodo crew agrees on, it's bourbon. Sweet liquid gold. It's pretty much the classic American spirit, and it's experiencing a massive boom at the moment. Whiskey producers are going to great lengths to keep up with demands. So we thought it was high time we took a look at how this delicate and beautiful creature is made. (Play the sexy music.)
It's Friday afternoon, you've made it through the long week, and it's time for Happy Hour, Gizmodo's weekly booze column. A cocktail shaker full of innovation, science, and alcohol. It's as American as bourbon pie.
There are many dozen full-sized distilleries pumping out bourbon in the U.S., and micro-distilleries are popping up left and right. There are a handful of rules that dictate what can be called bourbon (which we'll get to in a moment), but within that there is a lot of room for distillers to play, which is why there's such a huge range of flavor (and quality) within the bourbon family.
We were recently invited by Four Roses to come see their operation in Kentucky, and we decided to take them up on it (because we love distilleries). Four Roses is interesting because it distills ten different recipes, and then blends them into different products using different ratios (and in a bid to maintain consistency). We'll outline the differences and commonalities as we go.
Mash Bill and Beer
All bourbon starts with a mash bill, that is, a distillery's chosen ratio of grains. In order for a whiskey to be bourbon, the mash bill must be at least 51-percent corn. Them's the rules. The rest of it is typically rye and malted barley. Some mash bills contain wheat, in which case you have what's known as a "wheated bourbon," which tends to be a bit sweeter.
Four Roses has two mash bills that it uses. "E-Mashbill" is 75-percent corn, 20-percent rye, and 5-percent malted barely. The "B-Mashbill" is 60-percent corn, 35-percent rye, and 5-percent malted barley. The rye-heavier B-Mashbill has a spicier, full bodied flavor.
The grains are purchased dried and are carefully quality-controlled. Since a lot of distilleries share a common grain source, they kind of have each others' backs. If one spots a little mold or must in their grain, they'll alert the others. Moldy and musty flavors will go all the way through the distilling and aging process and can ruin a whole batch very easily. The approved grains all pass through a large hammer mill where they're turned to a gritty flour.
From there, the processed grains are transferred into the "beer well," and the cooking begins. The corn is typically added first and cooked for the longest at the highest temperature (around 220 F). It's then allowed to cool down a bit, and the rye and, finally, the barely are mixed in. This is what is known as a "mash." Large pumps circulate it while it's cooking to ensure it's cooked evenly. The whole cooking process typically takes less than an hour, because overcooked grains begin releasing undesirable flavors, and it's really just the sugars they're after. This stage of the process smells mouth-wateringly good, like hot cereal, and beer, and everything that's right with the world.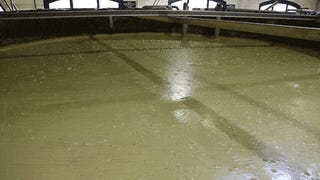 Yeast and Fermentation
Once the mash has cooled, it is piped over to a large fermenter. This is where the alcoholic magic begins.
Not all yeast is created equal. Yeasts are little microorganisms that mutate extremely quickly, and there are thousands of different types out there. Yeasts feed off of the sugars in the mash and produce alcohol and carbon dioxide as byproducts. Surprisingly, though, different yeasts yield very different flavors. Distilleries jealously guard their proprietary yeasts because it's such an essential part of their product's flavor.
Here again, Four Roses does something different. Back when they were owned by Seagram, the food scientists there did exhausted research on different yeast strains and their resulting flavors. They ended up with five favorite proprietary yeasts all of which are still used today. So we've got five different yeasts being used in two different mash bills, hence the ten different recipes.
The yeast strains are carefully cultivated. When it's time to make a new run of bourbon, a small amount of the yeast they want is added small amount (typically a cup or two) of a sterile yeast mash (a sweet solution that yeast thrive in). Once the yeast has had a chance to propagate, those two cups of liquid are added to a large bucket of liquid, and more propagation takes place. That is how they get a sufficient quantity of yeast for the inoculation of the large fermenters. Once it's ready, it's tossed into the mash awaiting in the fermenters.
As the yeast does its thing, the solution begins to bubble so much it's almost simmering. At the same time, the whole room has a wonderful smell, like sourdough bread just starting to bake. The vats are kept warm until the solution reaches roughly 10-percent alcohol by volume (ABV). Then it's time to concentrate the stuff.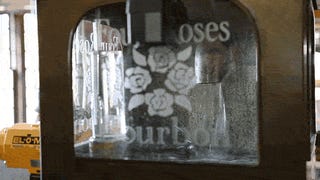 Distillation
10-percent ABV would be plenty strong if we were making beer, but bourbon must be bottled at 40-percent or more, so we've got some work to do. Traditionally, back in ye olde drunke dayes, bourbon was made in a large pot still, but today the majority of large distilleries have swapped them out for column stills (also known as continuous stills).
The column still is essentially a large vertical tube that is cut into partitions by metal plates. Each of these sections acts as a small pot still, working in series. The plates at the bottom of the column are very hot, making almost all of the liquids evaporate, but as the column goes higher and higher, the plates get cooler and cooler. This causes the water to condense and fall back down, while the alcohol (which boils at a much lower temperature) remains vapor and continues rising to the next level.
At the end of the distillation you are left with "low wine" (pictured above) which is a clear spirit ranging between 45 and 65 ABV (or 90-130 proof). We tasted some of it, and there still some serious funk on it at this point in the process. That's why it's distilled once again, this time in a smaller still known as a doubler. When it it comes out of the doubler it's typically only about 5-percent higher in ABV, but it really takes the nasty edge off. What you've got is a very strong, but less harsh spirit called "high wine," but you know it as "white dog," aka "lightning", aka "white whiskey."