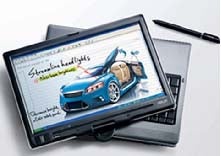 ASUS has officially launched R1, V1 and F2 lines of laptops. These laptops are built around providing the best security for the business professionals or others that need to keep their digital information safe. Fingerprint authentication, data access security, encryption and advanced passwording are just some of the security features these laptops use.
Get the nitty-gritty specifics about each laptop after the jump.

The R1F is a 13.3-inch tablet PC that is powered by a Intel Centrino Duo (or Core 2 Duo) processor and includes up to 2GB of memory, SATA hard drive, hot swappable optical drives, Wi-Fi, Bluetooth, ExpressCard and a card reader.
The V1 is a ultra-slim 15.4-inch laptop that has an optional docking station. This laptop is also powered by an Intel Core or Core 2 Duo processor and has similar other features as it's tablet cohort mentioned above.
The F2 is 15-inch laptop that is built around communication. It has an exclusive ASUS MiVo module allowing Skype users to place calls easily. This laptop has similar features as the V1 and R1F and also includes TV-Out and an optional integrated 1.3-megapixel webcam. – Travis Hudson