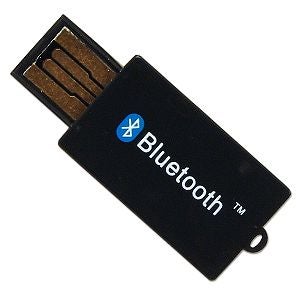 Dongleberries

By Brendan I. Koerner
Bluetooth reminds me of this on-again, off-again girlfriend I had back in the day—let's call her Heavenleigh. When things first got hot with Heavenleigh, man, it was lovely—a feeling similar to the one I got after creating my first piconet. But the tingle wore off once the complications of the relationship became apparent: Heavenleigh had "issues", and the Sony Ericssons of the world were charging too much for Bluetooth chips. The three of us drifted apart.
Then, out of nowhere, things get rekindled. In Heavenleigh's case, it was due to the combined effects of lonliness, the full moon, and enough Budweiser to fill the Caspian. As for Bluetooth, it was all about the low-ending of dongles like the Cyber-Blue unit pictured at the right. Lord knows that back when Bluetooth hit the scene, I thought I'd never live to see the day I could mod my laptop to network with my cell for under $10.
Alas, if only it were so easy. Bluetooth dongles may be plenty cheap nowadays—for the umpteenth time, thank you, Guangdong. But caveat emptor, bigtime, when wading through the dozens of no-brand options. The online dongles marketplace provides an excellent lesson in the pitfalls that await low-end consumers. A list of the vendors' crimes after the jump, as well as a manifesto of sorts regarding hype-sheet language. PLUS: An indispensable eBay rule of thumb!
When shopping around for a sub-$10 Bluetooth dongle, the first thing you notice is the dearth of USB 2.0-compatible options. E-commerce sites try to be coy about the fact their dongles only work with 1.1, primarily by stressing that their products are v2.0 compliant. To someone who just wants to pull pictures off their Razr without paying $39.99 for Motorola Phone Tools, it can be pretty easy think you're getting something from the hi-speed world. And trust me, using USB 1.1 ports in a much-used version of XP has caused me all sorts of nightmares lately—enough, I'll confess, to make me start dreaming about those Intel-powered MacBook Pros.
The other thing they never cover on the hype sheets, of course, is compatibility, which can be a bit of a haze for dongles that are stuck on the v1.2 spec. As previously discussed in this space a while back, there are few more dispiriting moments in life than realizing that your fabulous bargain is gonna cause you more heartache than joy. Now, I'm not asking the cheapo sites to add a warning to the effect of, "The spec on this dongle was dinosaured two years ago, so you could have some bandwidth and error issues." But it would be nice if they could at least explain what v1.2 means versus v2.0, and why buying the latter is probably the better idea. Hey, man, upsell! Works for Chipotle—damn that one "burrito artist" who once convinced me to drop an extra 45 cents on the peppers-and-onions mix. (Overly crunch and to be avoided, BTW.)