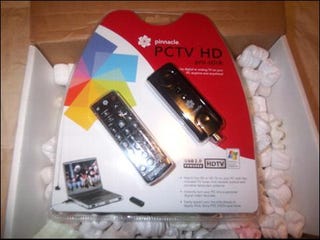 We love us some HDTV, so when Pinnacle gave us a first-hand look at their new PCTV HD Pro Stick we were all over it. A smidgen thicker than your average thumb drive, the Pro Stick delivers free over-the-air HD programming straight to your PC via a USB connection. It comes with a portable antenna so you can use it with your laptop when you're on the road and it also comes with an A/V adapter that'll let you hook up a cable/satellite set-top box straight to the Pro Stick. If the thought of being able to watch over-the-air HDTV from your laptop gets your juices flowing like it does ours, click on and ogle at our first-hand pics. – Louis Ramirez
Installation is easy though it does take awhile (a good 10-15 minutes). Once we had the player running, our only gripe was with lip synching. Oftentimes what was spoken on screen wouldn't match up with the actors' lips, giving everything we watched an old Japanese karate movie feel. Otherwise, reception and quality was excellent.
Pinnacle PCTV HD Pro Stick

Package contents (all nice and fluffy)

PCTV HD Pro Stick (sexy in black)

PC Pro Stick, meet your master (remote control).

A/V adapter meet PC Pro Stick meet remote

USB extender, antenna, A/V adapter (up top) PC Pro Stick, remote (left to right)

A/V adapter connects to Stick via mini USB port

Remote control with PC Pro Stick (BFFs forever)

Each button has a different shape and they're spaced just right for our manly-man hands.

Sexy Stick-on-laptop action

Install screen

Channel scan takes awhile, but not so bad.

Player with interface (Looks like rain for NY)

Success! (name the video for bonus points)