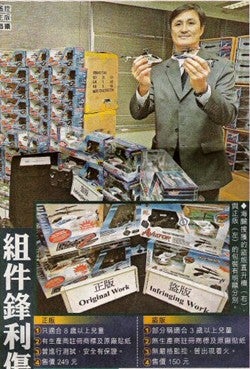 By Brendan I. Koerner
I'm probably about the only geek on Spaceship Earth who doesn't think CES is the frickin' bee's knees. Yeah, yeah, the iPhone's great and all—but c'mon, $499? Do you know how long I'd have to subsist on White Rose mac-'n-chesse in order to save that much? Alas, for a cheapskate like your humble narrator, CES is a sad annual reminder that much of what we crave in life is unattainable.
But if you look past the splashy 108-inch TVs and stacked booth babes, there's always a low-end story or two to track in Vegas. And this year, it's the brewing Battle of the RC Helicopters, a tale rife with accusations of piracy, marketing sleight-of-hand, and international legal intrigue. Oh yeah, and also sub-$40 electro-toys of a sort that make me wish I'd been born in the Nineties rather than the Seventies. The sordid story so far after the jump.