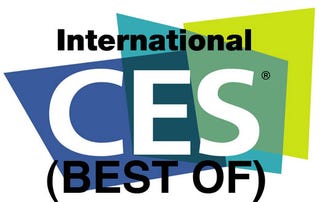 CES is so hungover, and all that's left for journalists to do during this tech lull is to sit around and write up their "best of" lists for CES. But since our Frankenreview is about collecting product reviews and sifting through the opinions for consensus, what better to review than the best of what was reviewed at CES 2007?
While Laptop Mag, Popular Science, Shiny Shiny, Infosync, Reg Hardware, Maxim, and Pocket Lint have taken lemons and made lemonade, we are taking lemonade and making...super lemonade. Hit the jump to see the absolute cream of the crop products, the one list to catch you up on all the lists: The Best Of, The Best Of CES 2007.
Media Player
LG Super Multi Blue

"We love the quality of Blu-ray, we love the quality of HD DVD, but we don't want to get involved in a format war and back the wrong one. Seems LG doesn't either with the launch of a dual player." (pocketlint)
Portable Media
Sansa Connect
"This WiFi portable audio player provides streaming Internet radio, as well as WiFi content acquisition in one nicely priced package. In other words, any time you find yourself in a WiFi hotspot, you can download new songs." (maxim)
It's just like a Zune, but useful.




Television
Sharp 108" LCD


I love how succinctly she puts this: "...it's made by Sharp and is the world's largest LCD...as I just said." (shinyshiny)
Computer
OQO Model 02

"Roughly the size of two iPods, the OQO 02 could easily be mistaken for a handheld videogame system or even a slightly oversize Blackberry. But don't let it fool you: It's a fully functional, standalone computer capable of running Windows Vista." (popsci)
And it's a lot nicer than this UMPC.

Phone
LG VX9400