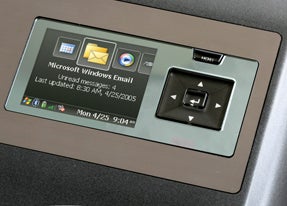 One of Vista's features that has caught our attention is SideShow. Think of SideShow as Vista's sidekick. With the help of these mini apps that MS calls "gadgets," SideShow can let you perform small tasks like read e-mail, check on weather, look through photos, or flip through your list of contacts regardless of whether your PC is on, off, or in sleep mode. All you need is a SideShow-enabled device—be it an external screen on your notebook or a screen on your Media Center remote. So for instance you could....
use SideShow-enabled remotes like these to view your photos or listen to music when your PC is idle or shut down. The larger the screen the better as you'll be able to see and do more.

Or you could use a Sideshow-enabled laptop like Asus' W5Fe. Sure, you may think that color external display will zap away your battery life, but in reality it'll actually do the opposite cause rather than have to boot up your entire system to grab a small bit of info (like an address or phone number), all you need to do is drill through the controls on the external display and find the info you need in seconds rather than minutes.

Too lazy to take out your notebook? Eleksen's messenger bag takes Asus' concept one step further in that the SideShow display is built right into the bag, so you don't even have to take your notebook out to get info, just look at your bag.
Microsoft wouldn't tell us what other plans they have in store for SideShow (though at CES we did see a cell phone with SideShow built-in), but the cool thing is that there could be as many products for it as there are uses. Not only that, but if you have the know-how, you can even create your own gadget, and the more people that do that, the better uses we'll see for SideShow. – Louis Ramirez
MS Vista Gadgets [Microsoft]
Make Your Own Gadget [Microsoft]