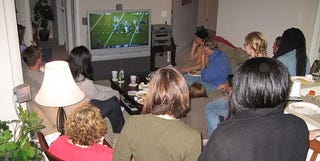 Sure, you can be a regular Joe and set up a couch and chairs around a crappy projection TV with a tiny grill on the deck, but who wants to look like a loser? If you really want to impress your friends and family, simply follow some steps and become the Unofficial Lord of the Party. The latest technology and gadgets are key to an awesome Super Bowl party this Sunday.
Step One: TV
There is a lot more that goes into selecting a TV for the Super Bowl than you may think. If you are thinking about going low-def, then close the browser now, because you have lost all of my respect and I would prefer you not reading my guide.
Fortunately, this year CBS has the honors of broadcasting the Super Bowl. It will, of course, be in HD. I like to call this the first year the Super Bowl will truly be in HD. Last year FOX had the rights to the Super Bowl broadcast, and even though they did air it in HD, many markets at the time did not have FOX in HD. Hell, I still don't have FOX in HD on my cable service one year later (Cox, you listening?).
Now, on to the HDTV choices. There are a handful of things to shop for in an HDTV for the Super Bowl and more. If you are watching the Super Bowl I would like to also assume you are a sports fan and if you have never experienced sports in HD, it is one hell of a treat. Picture quality is key—specifically accurate colors, ability to produce deep blacks and adjust primary colors. If money isn't a concern then the Pioneer Elite Pro-FHD1 may be for you. This 1080p 50-inch plasma is the top of the line for picture quality. You will pay for it, though. This plasma carries a list price of $8,000, but in all reality will cost you closer to $6,000 at most places.