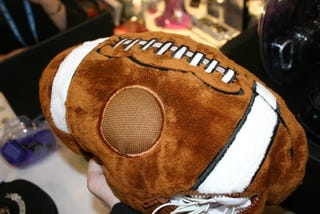 While the "gadget" section of the Toy Fair was small, what struck me was the number of mp3 players and accessories targeted at kids, all the way down to toddlers. Do they really need to listen to the new JT single while they doze off to sleep?
First up is the iPod pillow (pictured), from the guys at Cold Fusion Entertainment. Nothing fancy, just unzip the pillow, plug in the audio jack and it plays through the speaker in the center. I'm not exactly sure why you would want music playing out of your pillow. But if you're into that sort of thing, the pillow felt soft and you couldn't feel any wires, so a shuffle would be ideal comfort-wise.
The Peapod disturbs me. "Infants, toddlers, and preschoolers," its target audience, don't need an mp3 player. While the rubber coating feels softish, the player still has enough weight to bash their fellow rugrats' head in, thanks to the "easy to grip" handle. Bludgeoning issues aside, it comes with a measly 128MB of flash memory, and obviously doesn't support iTunes, making it unappealing to the kind of hipster parents that would think this is cool. On the upside, it does claim to get 40 hours of playback from one AA battery, which is kind of impressive. The president of Peapod Toys told me that he "hopes" it will ship in 10-12 weeks with a wholesale price of $55.
This MP3 player docking station for kids is actually kind of impressive, in that it supports any mp3 player, as well as SD cards up to 2 GB. It also has a remote and a USB port (though I'm not sure for what, actually). Weirdly, though, it doesn't have a rewind button, just play, pause and forward skip. No price on it, but if it's under $50 then I could see it being alright for kids around 10 at that price. Why your little bastard would have their own iPod though, is beyond me. – Matt Buchanan