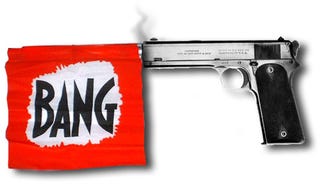 Click to viewAfter the appalling tragedy in Salt Lake City earlier this week where an 18-year-old gunman began indiscriminately shooting people to death, our thoughts drifted toward arming ourselves to the teeth. The off-duty (and armed) cop on the scene saved countless lives, keeping the gunman pinned down until backup arrived. Maybe more citizens needed to be carrying guns on that fateful day.
I have been in an unfortunate situation where gunfire erupted and a person was killed right in front of me, and four others were shot. Short of somehow knowing what was going to happen and calling for peace before the shooting started, I wish I had been armed with the deadliest gadget of all, a BFG that might have been able to change the outcome of the melee.
In self-defense, if faced with a him-or-me scenario, some serious firepower could be life-saving. Gun porn coming, not for the squeamish. If I just woulda coulda shoulda had a...

Taser C2

First off, we'd rather not kill anyone at all, so why not just incapacitate them momentarily with a Taser C2? This one might be good for the fashion-conscious—it's available in a handbag-matching metallic pink or electric blue, plus the basic black or titanium colors that go with just about anything.