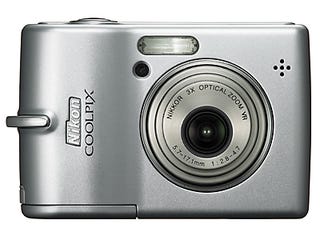 Nikon introduced three additions to its low-end L ("Life") series, the Coolpix L10, L11 and L12. The lowest end of the bunch is the L10, a 5-megapixel digital camera with a 2-inch LCD viewscreen. It's cheap, too, even for an entry-level camera. Nikon says the L10's $119.95 price is equal to buying four disposable cameras plus processing. Just like all three new cameras in the L-series, this one has in-camera redeye fix, SDHC card compatibility, a glass Nikkor f/2.8-5.2 lens with 3x zoom, and face-priority autofocus.
The L11 ($149.95) has the same features of its L10 brandmate but adds a 2.4-inch LCD and a 6-megapixel CCD. Topping off the L-series is the L12 ($199.95, pictured above), with a 7.1-megapixel imager, 3x f/2.8-4.7 glass Nikkor lens and 2.5-inch LCD, and this top-of-the-line model adds optical VR image stabilization and maximum 1600 ISO compared to the 800 max ISO of the other two. Its anti-shake feature puts together that stabilization along with a higher ISO number and Nikon's Best Shot Selector, together designed to make up for jittery novice photogs. Or you could just get a tripod, kids.
Jump for pics of the L10 and L11, plus info on the ship dates: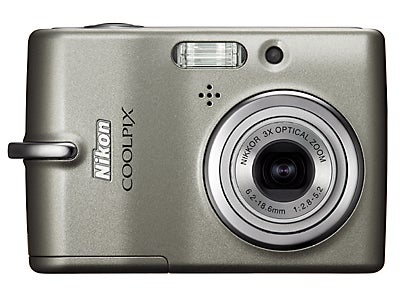 Here's the L11 (above), looking almost the same as the L10 (pictured below) and L12.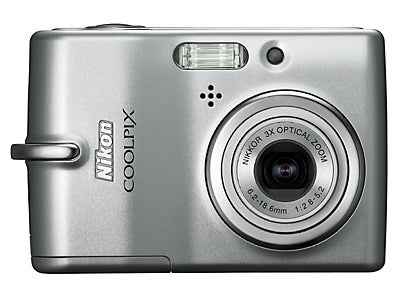 These aggressively priced cameras are bound to give Canon's PowerShot A Series a run for its money. This is quite a price-performance improvement over last year's Nikon L-series models, where the Nikon Coolpix L4 announced last year at this time cost $149.95, and had just a 4-megapixel CCD compared to this year's identically priced 6-megapixel L11. All these entry-level Nikon point-and-shooters ship in March. We'll get our hands on 'em at PMA in Las Vegas, starting March 8th. – Charlie White