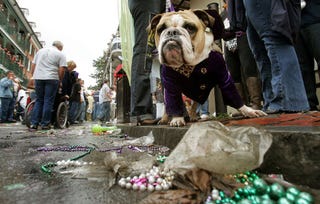 Click to viewFor those unaware, today is Fat Tuesday, or Mardi Gras or Shrove Tuesday or Pancake Day or whatever the hell you want to call it. Let me put on my spectacles and give a little history lesson.
Fat Tuesday is the day before Ash Wednesday and the last hurrah before the start of Lent. This day has a lot of significance throughout the world, but for us in the United States, it is just another day where we can get absolutely plastered.
Fat Tuesday is also synonymous with the viewing of breasts in exchange for reward, in most cases, beads. So, what is a better way to ring in Fat Tuesday than a grand ol' list of some of our favorite alcohol- and breast-related gear. Jump to see the entire, possibly NSFW, list.


10. Godzilla Beer Dispenser

I wouldn't suggest drinking directly from this beer-dispensing Godzilla, because then it would appear that you and Godzilla's relationship was more than professional. This little dino lets out a mighty roar upon pouring of a beverage (although, like most dinosaurs, Godzilla prefers beer).