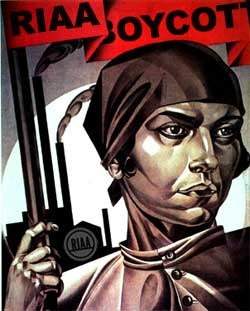 Here we are in Day 1 of our RIAA boycott, and what do you know? The RIAA says it's going to offer a special deal to certain college students, letting them off easy instead of suing them for hundreds of thousands of dollars for illegally downloading music. The recording industry Gestapo said letters were going out offering "discounted settlements" to 400 students at 13 universities across the United States.
"The theft of music remains unacceptably high and undermines the industry's ability to invest in new music," whined Mitch Bainwol, the chief bottle washer of the RIAA. Before taking downloaders to court and suing them for those six-figure amounts, the RIAA usually settles for around $5000. There was no word about the exact amount of the RIAA's special settlement sale that's going on now. Jump to the list of schools on the hit list.
Here are the schools listed by the RIAA in its special sale on settlements for "music thieves:"

Arizona State University, Marshall University, North Carolina State University, North Dakota State University, Northern Illinois University, Ohio University, Syracuse University, University of Massachusetts, Amherst, University of Nebraska, Lincoln, University of South Florida, University of Southern California, University of Tennessee, Knoxville, and University of Texas, Austin. – Charlie White
Music labels offer deal in download case [Yahoo News]