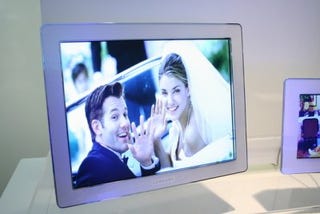 Later this year, Samsung will release 8- and 12-inch version of their new 800 x 480 pixel 7" photo frames. They don't only look like the lost son of an old Apple Cinema Display, but they are also Wi-Fi enabled and will automagically search for PCs with Vista, displaying photos, movies and MP3s stored on the PC via Windows Media Player 11. And images from the Internet, via RSS.
All photo frames come with a 4-in-1 memory card reader and a USB port for cameras and portable storage devices. At $305 for 7", I won't risk a divorce pointing it to the wrong image feed, but you can also try the non-Wi-Fi one, the SPH-72H, for $238.
New, Larger Samsung SPH-72P and SPH-72H Digital Photo Frames debut [Techshout]

Samsung dévoile deux cadres : le SPH-72H et le SPH-72V [GenerationMP3]
UPDATE: apparently, there was a mistake in the original report and these frames don't support MP3 or movie playback. Too bad, really.