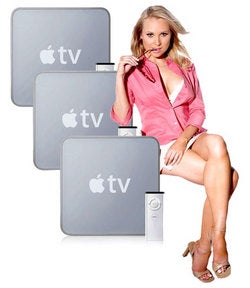 Most of us have reached a turning point. That point is, if you hear anything else about Apple TV you're going to vomit. Don't hold it back, or it's going to come out your nose.
But maybe you're of the mind to actually buy one, and need to do some hard research. If so, bookmark this post that our sexy librarian friend put together for us: Here's a list of the best Apple TV stories on Giz and beyond from the two weeks since Mossberg launched review number 1.
First, Giz. We've covered the bajeezus out of AppleTV. Here's the first unboxing, some surprises upon grope, a couple of pet peeves, the first setup video, a head to head with Microsoft's Media Center and XBox 360. (And unnaturally, Apple TV versus Tivo Series 3.)And a cable buying guide, as well as the mega gallery of hardware and screenshots. Shoot, I almost forgot our review. Verdict: Good, but not going in the Pants...Although we'd consider this one licked by her Munness.