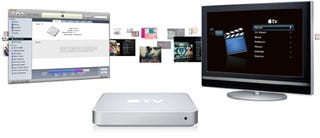 Click to viewOn the fence as to whether or not you should buy an Apple TV for your living room? Feeling a little constrained by the device's restrictions? From upping your unit's hard drive to getting it to run unsupported video codecs, these hacks will make your $299 purchase worth the splurge.
Boot Apple TV from an External USB Drive




Major props to the guys at AwkwardTV who found a way to boot Apple TV from an external USB drive. Why is this cool? It means you can now hack Apple TV without having to crack open the box.