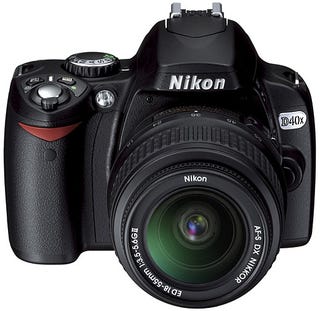 We have a Nikon D40X ($730, body only) in our hands, and testing it for the past few days has been a joy. The camera is light but not too light, and its controls are perfectly placed. We're even okay with its menu system, which other reviewers have called "meandering." It also gives you the overall impression that it's going to back you up if you do something stupid. For example, its auto ISO setting will reach into its higher numbers, pushing the light through to help you out in a dark situation.
What we really like is the way the thing feels in our hands. It just fits perfectly. Its menu buttons are right where they need to be, along with the dial for automatic exposure, manual control and tons of programmed auto exposure routines. In fact, we like all the nice touches in this camera. When a product is crammed into a crowded market with scads of me-too products, these little details are what can set one digital SLR apart from all the others. With the Nikon, it's that perfect-sounding click when you release the shutter.
We also appreciate the extra megapixelidge added to this D40x model, which doesn't replace the lesser D40, but gives you 10.2 megapixels instead of the D40's six megapixels. The D40x also brings a bit faster rapid-fire rate, snapping off shots at three frames per second. Sure, it's not the spectacular 10fps motor drive of the Canon EOS 1D Mark III, but it'll still do the trick if you need to take a few quick shots in a row. What about that honking lens? There's more.