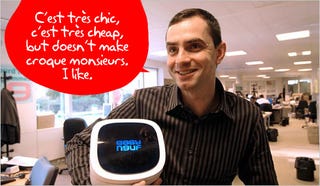 French ISP Neuf Cegetel has come up with a computer that costs pas beaucoup. $53 buys you the computer gets you a month's worth of computer plus ADSL line rental, $39 gets you a mouse, keyboard and camera, and a 14-inch color monitor is $132.
UPDATE: That's about $13 a month more than a broadband subscription, so the computer will cost you $156 a year.
Admittedly, you don't get a lot for your 50 bucks-plus—a 512KB flash disk, Linux operating system, Firefox, Abiword and Gnumeric spreadsheet, but the computer—which looks like something Barbarella might have watched Desperate Spacechicks on, is compatible with all sorts of peripherals, including external hard drives, Internet phone headsets and digital cameras.
The $53 initial outlay is just $13 more than the cost of an average broadband subscription in the land of the Fromage-Mangeurs. Perhaps it is a ploy by Neuf Cegetel to get more people online, as just 61 percent of French homes have computers, compared with the European average of 64 percent. But that's still way behind the 75 percent over here. Another pic and video after the jump.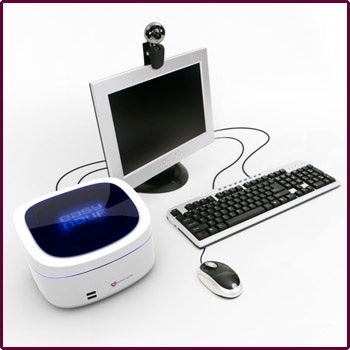 – Ad Dugdale
France caters to market for most simple of computers [International Herald Tribune]