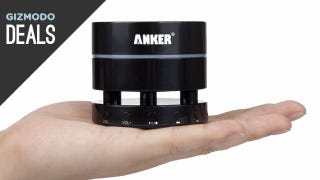 Featuring an adorable design, 10 hour battery, and fantastic Amazon reviews, Anker's Bluetooth speaker will only set you back $25 today. For that price, you could probably put one in every room of your house.
---
Short of keeping your phone in a hyperbaric chamber, there's no way to protect it better than an Otterbox Armor series case. Today, you can pick one up directly from the source for 50% off. If you need similar protection for your iPad, Amazon has the Defender series case for the iPad Mini or iPad Mini Retina for an all time low $30 as well.
---
It's probably not ready to be your only computer, but a Chromebook is perfect for traveling, and built in LTE is an awesome bonus. Today, Best Buy will sell you an HP 11" Chromebook for just $250 if you sign up for a month-to-month Verizon data plan. The Wi-Fi only model typically goes for $279, so this is a great deal if you've been on the fence.