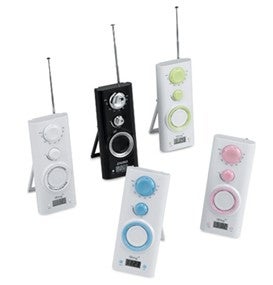 Totally against my will, the missus dragged me along to Bed Bath & Beyond a couple of weekends ago. (Insert whip-cracking sound effects, wise guys.) It was every bit as horrific as I'd feared—I must lack whatever gene enables some folks to swoon over Casabella all-purpose gloves. Oh, and I had to miss the Mavs-Suns game in the name of stocking up on overpriced cleaning supplies. Brutal, just brutal.
The day's one saving grace came as we trudged toward the checkout line. To the right of the cash registers was a rack of low-end gadgets, of the sort you'd ordinarily find at an exceptionally raggedy Radio Shack. There was a USB minifan for five bucks (brand name: "Cool Breeze"), a host of Bandai-style LCD games, and quite possibly the flimsiest iPod speakers known to man. The cake-taker, however, was the Zadro iSing Shower Radio (pictured at right), which hits all the low-end high points. Shameless attempt to leech off the iPod's celebrity? Check. Using the "wow" factor of water resistance to mask otherwise craptacular craftsmanship? Check. Under a Hamilton? Yep—a lovely $9.99.
Now, absolutely no one goes to Bed Bath & Beyond looking for electro-dreck. These products were rather impulse buys, to be tossed in a shopper's cart just before she pays for a bevy of pillows and spatulas. In other words, here was strong evidence that gadgets are quickly morphing into the new ChapStick.
And that strikes me as sort of a big deal.
This wasn't the first time I'd noticed low-end electronics being hawked in a store where you wouldn't expect to find 'em, and near the cashiers to boot. Last month, while shopping for irregular tube socks at T.J. Maxx, I came across a shelf stuffed with ear buds and, oddly, large-buttoned remote controls—items that had obviously fallen off the proverbial truck. I didn't notice any takers, but T.J. Maxx (I suspect) isn't run by cretins; I'm sure someone at corporate headquarters was tipped off that, after a long hour or two of trying on size XXXL sweatpants, your average shopper may be unusually open to the idea of replacing their iPod's ear buds.
The obvious moral here is that consumers have grown inured to the ever decreasing lifespans of gadgets. I don't want to dump on the iPod too much, but I shudder to think what Apple's done to the next generation's expectations regarding how long a $300 piece of hardware should last. If no one expects a fancy MP3 player to survive much beyond the warranty's expiration, then what are they supposed to expect out of a USB beverage warmer? Or a shower radio? You've got the admire the sinister genius at work among the tech industry's powers-that-be. We've been conditioned to assume that low-end means low-qual, an equation that needn't necessarily be true.