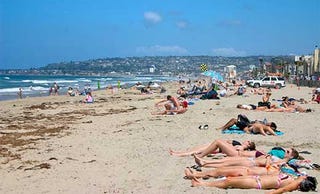 How did you spend your weekend? With your family, perhaps? Maybe you were outside, enjoying the beautiful weather. You could have been working on a project, such as rebuilding a car engine or writing some short fiction. Those are all such noble activities, but you know what? You totally blew it by not sitting in front of the computer and reading Giz. You missed some good stuff, and you have no one but yourself to blame. Your family can wait: Gadgets come first.
But don't worry, we're looking out for you. Here's a rundown of the best stuff you missed, so go ahead and get caught up. We'll wait.
- Exclusive Pics of the Vudu - Video Store In A Box : Say hello to Vudu, the upcoming VOD box that you'll be hearing a whole heck of a lot more about in the coming months.
-Sony Goes Nuts at European God of War II Release Party: Topless women, animal sacrifice and video games. Enough said.