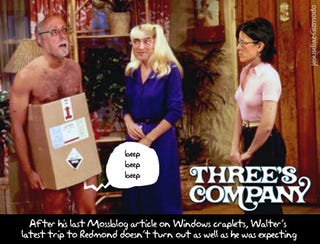 While Pogue was on vacation with the fam, Mossberg moved into his new internet home on the All Things Digital website. The site isn't only an archive of 2 years of his WSJ columns. He's got roommates: Kara Swisher, and the swarmy, talented John Paczkowski. And the Godfather is ready to slum it up in the Tech Blog ghetto.
On the blog:
We want to be first, and sassy, but also well sourced and accurate. We will offer lots of opinion and analysis, but plenty of fact as well.
So far, Mossy isn't updating often, but there's potential here: With a one minute lead time, so you can expect him to scoop more often, and he's already flexing a more conversational tone. I'm not saying the Mossburger is going to start whipping out F-Bombs, but the read is more relaxed, more in line with his personality.
My favorite piece so far is the message to shareholders, analysts and other bloggers who are giving Apple a hard time about being late on Leopard. His take is exactly my take: It's better to be late than early and shitty. Maybe that analysis applies to the arrival of his blog as well.
[Note: The website says "occasional musings from Walt", so there's no intent to be a minute by minute tech blogger, but I'd still welcome more content.] Either way he's got to start posting more often, and more quickly as news breaks if he wants the blog to be more than an electronic weekly column. As anyone who has made the move from standard journalism to the fast world of blogging knows, it's very difficult to be both first while keeping the polish that longer lead mediums afford with copy editors, fact checkers, and extra minutes for reporting. That is, unless you're powerful enough to delay product launches til you have time to review. Either way, more posts, please.