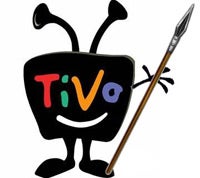 I have to admit something: I unplugged my TiVo in late 2004, and have used high-def Scientific Atlanta DVRs ever since. I was sad to see the thing go, and to this day, I have diminished TV enjoyment because of it. You may know what I mean.
TiVo has had hard times: the competition costs just $7 or $8 per month, no money down, and records HD without a Cable Card, or worse, the freakin' special permission you need from your cable provider to even get your hands on a Cable Card. TiVo says that it is in 4.4 million homes. According to a November 2006 eMarketer stat, DVR penetration will surpass 20% this year; that's over 22 million DVRs. You can bet the remaining 18+ million DVRs aren't ReplayTVs.
Today, TiVo puts on William Wallace face paint and shouts, "They can take our market share but they'll never take our playful, endearingly human personality!"
Launching the "My TiVo Gets Me" campaign, the company reminds us that we fell in love with it for a reason, a friendly user interface that has never been copied. The press release, excerpted below, seems targeted at those of us who have begun to ponder a return to the original DVR, especially since the Series 3 has begun to come down in price.