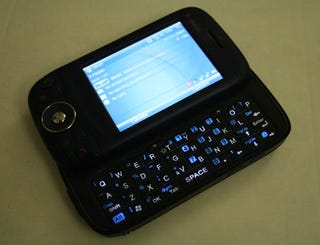 T-Mobile customers have waited a long time for an upgrade to the trusty MDA, its only Windows Mobile Pocket PC phone—and only Windows Mobile phone with a keyboard other than the Dash—but all that patience is about to pay off.
With the T-Mobile Wing, HTC's combined the features in the MDA that everyone's liked—Wi-Fi, QWERTY slide-out keyboard, and touchscreen—with the benefits of Windows Mobile 6, which the T-Mobile Dash just got recently.
How does it compare to its older brother the MDA and its cousin the Cingular 8525? Is it worth upgrading if you've already got an MDA? Yes. Make the jump to find out why.
Let's get the specs out of the way first. It's got a 201Mhz TI OMAP 850 processor, 128MB ROM, 64MB RAM, 2.8-inch QVGA display, quad-band GSM, EDGE, slide-out QWERTY touchscreen, 2-megapixel camera, USB 1.1, 802.11b/g Wi-Fi, and Bluetooth 2.0. Compared with the MDA, it's got a better camera, the same processor, more face keys, and a different slider. Compared with the Cingular 525, which has a Samsung 400MHz processor and 3G, the Wing comes up a little short.
The major difference between the Wing and the MDA or the 8525 is the addition of Windows Mobile 6. You should be familiar with all our coverage of WM6 by now, so we'll not dive into it too deeply. However, even though the Wing and the MDA have nearly the same hardware specs, the Wing performs noticeably faster thanks to the new OS. Add to that the capabilities of actually closing programs instead of minimizing them (to free up RAM, which speeds things up even more) and the bundled Windows Live Suite (we covered search on it before, but this includes Windows Live Messenger as well), you've got a much better software experience. But how about the hardware?