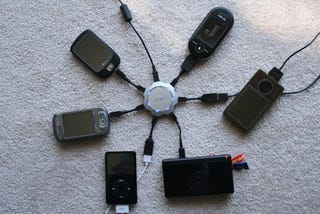 When we first heard about Chargepod's six-way charging system with its custom adapters and all-in-one body, we were skeptical. Is it really worth the price premium to combine all our gadget charging into one place?
After getting our hands on it and testing it out on just about every portable device we have, we've come to the conclusion that the Chargepod is the future of gadget charging.
That's a bold claim, but once you use it, you'll come to agree with us. See, with standard AC adapters, you'll be hard pressed to fit them all on one power strip because quite a few are large and oddly shaped. Then you'll have to get two power strips (or a power squid), which then means both of your outlets are now occupado. With Chargepod, you take up one outlet in one power strip and you're done.