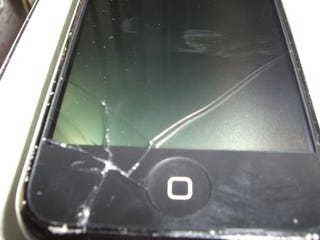 Let's start with the accidental... ;) A reader dropped her iPhone (pictured above) shortly after buying it, from a distance of only two feet up, but managed to crack her screen on the thinly-carpeted floor.
But with no replacement plan, insurance, or any sort of clumsy-protection, she found herself screwed out of $600. That was, until the Apple store from which she purchased the unit emailed her and replaced it free. Wow. Her quote: "I guess they felt sorry for me."


This guy drops his iPhone in a similar situation, just after opening. But the tech appears unharmed, maybe because it fell with some of the packaging.