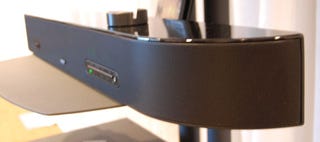 Today at the Hyatt Regency in Jersey City, Denon unveiled a massive line of new home-theater gear, mostly centered on the themes of network connectivity and easier setup.
• Networked ASD-3N and ASD-3W iPod docks ($179.99 and $229.99, out in August and September, respectively, with the "W" adding integrated Wi-Fi). In addition to providing a TV interface to access both video and audio content on an iPod, the docks pull music and photos from PCs and Macs on your network, and can be connected to any component, not just Denon stuff.
• X-Space DHT-FS3 surround sound bar and "super slim" subwoofer, which not only complements the docks but can be a nice low-profile surround-sound option under a flat-panel TV. Rare that these things fit below your TV unless they're wall mounted. We saw this before, but didn't expect a US arrival.
• RC-7000CI IR/RF Remote Control, which becomes an RF two-way remote system when you add the RC-7001RCI adapter—basically an RF dongle with its own IR blaster. When you use it with Denon components, you can see metadata, like what's playing, right on the remote's screen.