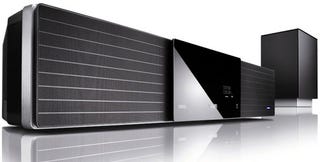 OK, we're calling it: this is the year of the sound bar, those long, slender speaker boxes that you see freakin' everywhere. (Today alone we mentioned three companies introducing a total of six new models!) When our very own Brian Lam was at CES this past January, he heard the editor-in-chief of a top home Audiophile/Videophile magazine tell one of his lead sound gear writers "audio is just dead." That kind of talk is not unexpected—it's about as shocking as a French wine critic calling Australian shiraz "the end of civilization." We all know sound bars have a place, but what have they done to 5.1? As you may have noticed, not all sound bars are surround bars. Here's the breakdown of most currently available models:

Active surround sound: Plug and play, no external amp needed


Philips Ambisound ($1,000) - You get a lot for your money with this one. Not only is it an active surround system, but it comes with an iPod dock and has a built-in DVD player.