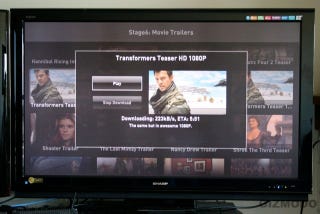 I got to play with DivX's Connected set top box that we showed you last night, and found a few more things out about the prototype. (Much of this could change by launch.)
•DivX Connected Server runs on PC, and does the file serving as well as the decompression of most video content.
•Only supports DivX video. No WMV or Quicktime files worked for us.
•Non-HD video files stream and play quickly / Fast-forward with no delay or lag over b/g WiFi. Without N support for WiFi, HD content needs ethernet.
•Music doesn't support AAC or WMA formats.
•There's nice integration with Stage 6 (DivX's version of Youtube, but mostly filled with geek/porn content) but there's delay in streaming, and it doesn't buffer, even when you pause.