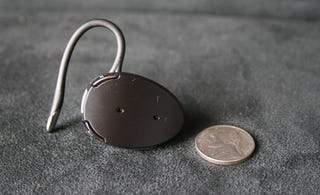 The Gadget: A Bluetooth noise canceling headset from nXZEN, a company whose strange fascination with the letters N and X belie the quality, size and performance of their headsets.
The Verdict: The nX6000 is a small, comfortable, and best of all, great sounding headset that blocks outgoing noise well but also gives you a really loud and clear incoming sound, which works great in noisy places.
The Catch:
It actually fared better than the Aliph Jawbone, our previous choice for best-sounding headset for the price right now (left side on the photo below). Not only did the nX give a better and louder incoming sound for you to hear, the outgoing sound was pretty much on par between the two. And the nX6000 is smaller!