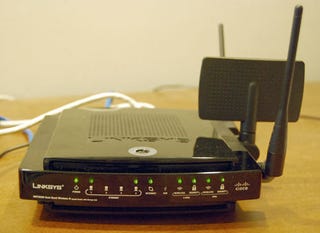 It's been a long time in the making, but Linksys is finally officially pulling the shroud off of the Ultra RangePlus line, including its dual-band draft-N/A/B/G router, the $280 WRT600N, and its $100 PC-card companion, WPC600N. The highlights:
• Two bands means traditional products can connect on the crowded 2.4GHz network while newer high-bandwidth products like Linksys' DMA2100 and DMA2200 can pull streaming HD video from your PC with relatively less interference.
• Linksys Easy Link Adviser for Windows computers gives visual instructions and step-by-step setup. It also has a feature to migrate older devices to the new router.
• Storage Link USB 2.0 jack lets you turn any external drive into networked storage by plugging it into the WRT600N.