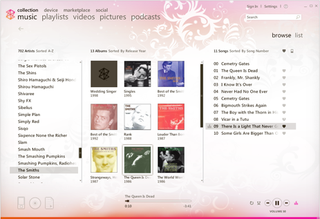 Click to viewZune 2 and its batch of new features are finally upon us, bringing new players and an entirely new experience. On the device side, there's 4/8GB flash-based and 80GB hard drive-based Zune with fancy form factors and increased storage, as well as new firmware for your old first-gen 30GB players. On the software side, the functionally rich (but somewhat clumsy to use) Zune suite is gone and is replaced by a beautiful, but hollow successor. Read on to find out how Microsoft has managed to change a lot on the one hand, and very little on the other—then see how the Zune stacks up against iTunes and iPod.
The Software: Large icons, bright orange and pink colors, and lots of small (but tasteful) animations welcome you when you start up the Zune suite. Gone is the dark MTV Urge-based Zune 1 that looked like a mix between iTunes and Windows Media Player. But that's not all that's gone—Microsoft took out a bunch of features in the name of making the experience a lot simpler to use.
First off, there are no play counts and the rating system has been re-tooled to just a heart, a broken heart, or no rating at all. If you're wondering how that will affect your smart playlists, well, there are no smart playlists anymore. I can only speak for myself when I say I love making smart playlists based on songs that I've played the most or rated the highest, so this move hurts like stealing candy from a diabetic low on blood sugar.
What they did add, beyond the tastefully animated and skinnable interface (you make it you!), is quite nice. You can now wirelessly sync to your Zune, which can be initiated from either your computer OR your Zune. Once connected, you can drag songs or playlists onto the Zune icon in the bottom left. Fairly straightforward, and definitely easier to understand than the iTunes/iPod's "choose which things to sync" for a beginner. This "make things easier for the casual user" motif can be seen in all of Zune 2's changes.


Other additions we like:

• There's a little icon next to each track that shows whether it's on the device or not.

• Podcast support is quite nice and is divided up into video or audio podcasts, and but video podcasts need to be converted. It took about 30-ish minutes to convert 6 podcasts from X-Play and Attack of the Show on a low-end Pentium D machine in the background while we scoped out the rest of the Zune stuff.

• TV Shows sync fine, but also need to be converted from Windows Media Center's DVR-MS format. This also takes a bit of time depending on how fast your computer is and how long the show is.

• Windows Media Lossless is now supported.

• The video playback screen is nice, big, and full screen.

• The Now Playing screen when playing music has a huge wallpaper of your album covers.

• Marketplace has been cleaned up to match the rest of the Zune UI.
Other complaints:

• You only get two views, one where there's a huge list of artists on the side, the other a gigantic flat list of all your songs that you can sort by artist, album, or genre. Again, simplified to the point where advanced users would miss some functionality.

• Searching doesn't find stuff while typing.

• No edit screen to edit ID3 tags. No mass/multiple item edit. All you get is pressing F2 and editing the artist name, album name, or track name. You can't even change the track number. This makes it hard to edit track details.

• Synced photos are aliased compared to the first Zune software. We're not sure if this is because each picture is synced full-size and then resized on the fly (for better squirting), but it's noticeably worse.
In the end, despite a graphical overhaul that added eye candy, the features Microsoft left out make us wishing for the old Zune suite back. We'll definitely say that what's left is very refined—but like a statue that's been over-polished down to a unnatural sheen, it's missing important features. And we'll take features over a glossed-up interface any day. Let's add back the features in Zune 3.
vs. iTunes: What used to be quite a close match between the Zune suite and iTunes has turned into a one-sided first round knockout for iTunes. Apple's changed iTunes very little since a year ago, but Microsoft has completely re-vamped their offering. We'd rather them de-vamp this, take a look at iTunes, and add back smart playlists, song ratings, play counts, metadata editing, and everything else that makes iTunes the best music manager software on desktops—Mac or PC.