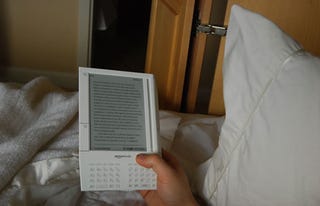 Click to viewIt's dumb to test the Amazon Kindle by sitting at a desk, pressing a lot of buttons. The real judgment as to its usefulness has to come after experiencing it throughout the week in three key real-life reading scenarios:
• In the bedroom
• On an airplane
• Atop the porcelain throne (yes, I'm talking about the toilet)
Join us as we take you where we don't like to take too many strangers, and experience the real-life Kindle review:
I understand the Kindle. Book reading is always a one-on-one activity, and there is more or less only one way to experience a book-from a rectangular object in your hand. An e-book reader that's PC-free, connected directly to the book source, is even smarter than an MP3 player or phone that's connected to a music store, because music ends up all over the place, while books will always stay in your lap.
People bitch about a lack of Wi-Fi, but as a fan of wide-area wireless, I think Sprint's EV-DO was a good way to go, because it's available in more places. And as far as the lack of backlight, I am inclined to believe the messaging from both Amazon and Sony, that E-Ink is easier on the eyes than anything backlit, and that long battery life is more important. I used the Kindle regularly without charging for four days straight before it completely crapped out just this morning.
As for the criticism about document and e-book format compatibility, I suspect these problems will work themselves out over time, as the Kindle's Linux platform is surely easy to enhance through software. At any rate, you already know many of the issues, so there's no point rehashing them here, especially when much of it is a matter of personal preference.