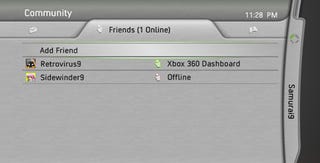 Update: Apparently there's actually something good in this update! Too bad they didn't actually include it in the press release, but the Xbox 360 will support DivX and XviD! Hurray! Here's what we got from the Xbox team:
**15. What types of AVI files are supported?

The Xbox 360 supports files encoded using MPEG-4 Part 2, Simple and Advanced Simple Profile. These files are often referred to as Xvid or DivX® video files. Many common PC DVD authoring tools, cameras, and camcorders are capable of encoding files using MPEG-4. Note that some files authored for DivX devices may also contain additional functionality(menus, subtitles, multiple audio tracks, etc). The Xbox 360 will attempt to play these files, but does not support any of the additional functionality and in some cases will be unable to play the file.
16. Why don't some of my older versions of DivX® files play?

Since we only support Mpeg-4 compatible codec implementations, we will not be able to play video files older than DivX® 5.0.
Original post, before we knew about DivX:
We thought that the previously released details of Xbox 360's Fall Update were kinda lame, and hoped the rest of the yet-to-be-released features would make up for the fact that seeing your friends' friends, parental timers, and downloadable Xbox 1 games are so-so at best. No such luck. Microsoft's just dropped the rest of the details, and they're not so great either.