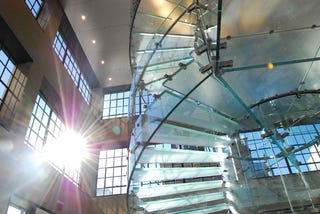 It may not be the biggest like we suggested—Chicago's Michigan Ave still beats it by a few square feet—but the first three-story Apple Store has a lot going on that others do not:

• Apple's first three-story glass staircase (we were wrong about the elevator)

• 46-foot Genius Bar capable of serving 100 tech-support seekers per hour with 12 stations. It isn't the longest GB in the world though; somewhere there's a 50 footer.

• Pro Labs: Free multi-session classes in Logic, Final Cut and Aperture. Six students sign up for 2hrs, once a week for four weeks. The classes are intense and totally free, starting Jan. 7.