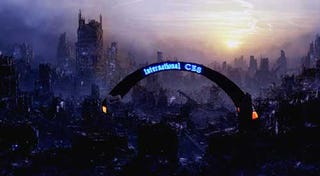 Oh, CES. You are a disgusting, bloated beast oozing everything that makes this industry horrible. Nay, everything that makes our culture horrible. Sure, to you fine readers it might look like it's all product announcements and good times, but that's far from the truth. In reality, it's a vile clusterfuck of nerds, sluts and suits; a deadly combo. Let me give you some reasons why CES signals the downfall of our society, if you can stand it.
1. Booth Babes


Are we such simple people? Are we so easy to manipulate that all it takes for us to decide that a product is worth writing about or purchasing are some out-of-work strippers in skimpy outfits handing out 64MB thumb drives? Yes! It seems to work. D-Link, a boring company, consistently had loads of pasty, sweaty show goers swarming around its booth, ogling their whorishly dressed booth attendants and grabbing at free handouts that aren't worth the jostling it takes to get them.
2. Gimmicky Booths


If a company is too classy to put half-naked women with no dignity in front of their booths to draw in foot traffic, it's pretty likely that they have some less offensive gimmicky crap in their booth. Cheesy fake game shows? Yes, that'll make me take your company seriously. Magicians? Wow, I am optimistic about your company's potential in the CE marketplace. I am interested in sharing this with our readers, as it seems like something that they should take seriously. Oh, wait, no it doesn't! You seem to have fooled me with your magic! Luckily, I have the sense of mind to ignore you and try to move past without being sucked into your tractor beam of the lowest common denominator.
3. Digital Picture Frames


Variations of these things are shown by the most companies at the most booths. Why? Digital picture frames are the worst gadget out there, tacky garbage that I can't imagine anyone would ever buy. But they do! These companies are all putting them out because you people are buying them by the truckload! They're essentially little flat-panel TVs with no tuners and a crappy frame wrapped around them. They then sit there, sucking up energy 24 hours a day, ruining our environment and making your living room look like the Fox News studio on the slowest news day in history.