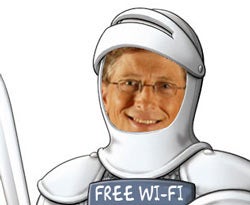 Referring to Microsoft's desire to use soon-to-be-opened broadcasting bandwidth for low-powered unlicensed wireless devices, Bill Gates argued that it will make for improved Wi-Fi, a term he appears to be using as simply non-regulated, subscription-free wireless. He said:
"We're hopeful that that will be made available so that Wi-Fi can explode in terms of its usage, even out into some of these less dense areas where distance has been a big problem for Wi-Fi."
Bill's opponents see this not as an opportunity for more Wi-Fi but as a chance to widen costlier, regulated wireless subscription services.
Microsoft along with Google, Dell, HP, Intel and Philips, have been lobbying the FCC to permit white-space devices, which they have been continuously submitting for testing. Broadcasters and others fear static and other kinds of interference.