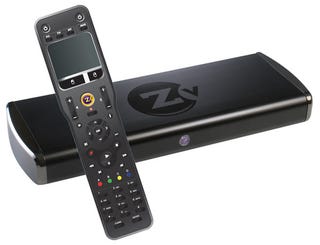 Today, a startup called ZeeVee is launching the ZvBox, a three-part plan for getting all the good HD video content from your PC out to all the TVs in the house:
• The box itself converts the video from the PC's VGA port into a high-def channel and sends it out to your home's coax cable network.
• A PC app acts as a launcher for all the good PC-based internet video clients, like Hulu, Joost and even Microsoft's own Media Center.
• The remote controls not just your TV, but the app on the PC too, giving you decent control over the otherwise PC-locked experience.
No, you don't have deja vu: Two companies you never heard of launched similar-sounding interactive TV boxes within a few hours of each other. But this one is quite different: It doesn't mess with antennae or try to get in bed with cable or DSL providers. It's just a nice tidy box that sends all the world's content to all TVs in your house—without set-top boxes in each room. There are some catches, of course.