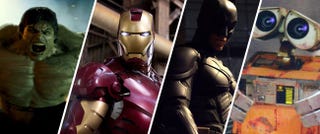 Indiana Jones may be the current talk of the town, but it's not the only big summer blockbuster worth discussing right now. With Iron Man already out, and Wall-E, The Dark Knight and The Incredible Hulk still to come, there's plenty of movie goodness still to be had. Speed Racer ?...let's not go there.
Iron Man : Yeah, He Can Fly



Iron Man may already be out, but that doesn't mean we should just forget about it. With the great flight scenes, cutting edge tech and the fact that it is just an excellent film, I plan to use any and all excuses to keep talking about the best superhero movie ever made (as well as the sequel).