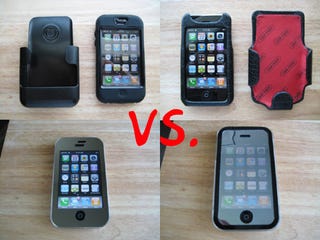 Personally, I have never been big into phone cases. They can be bulky, flimsy, and having one clipped to your belt makes most people look like a tool. I prefer to let them hang out naked and free—as nature intended. Still, iPhones don't come cheap, and if you dropped all that cash on one you are certainly justified in wanting to protect it from the elements. That is why I have put four major iPhone cases (the Case-mate leather collection, the Otterbox Defender Series, the Ivyskin Xylo T2 Touch-Thru Case and the iShield Mirror) to the test in an effort to determine whether or not they will truly fit your needs.
The case-mate leather collection:


The leather collection from Case-mate comes in both a variety of styles and colors that include line leather, croc-embossed leather and carbon fiber leather versions (the Black Croc-Embossed Leather iPhone Case/Holster Combo is pictured here). They are branded as luxury models with prices to match (line leather $49.99, croc-leather $59.99 and carbon fiber $69.99 for combo versions). All of the cases include a holster, screen protecting film and a design that features leather wrapped around an impact-resistant plastic shell—which makes them basically the same in terms of shape and protection. So, if you dig this style of case, the decision is going to come down to the leather used.
I found that all of the versions lived up to their luxury status in terms of materials and craftsmanship. Protection is going to be good but not great considering that the top is completely exposed and the screen is protected by nothing more than a simple scratch resistant film, but it should do the job for normal wear and tear. That holster is a friggin' beast though, so if you don't need to clip this to your belt you are better off saving a little cash and purchasing case-only. Case-mate's Naked Case was also tapped for this review, but units are hard to come by. Look for a stand-alone review soon.