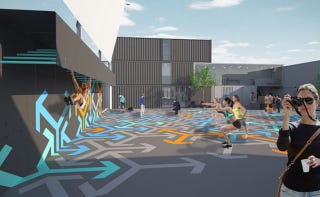 Healthcare has been making headlines for the past few weeks—less because of a sudden interest in good health and more because of the government's recent glitch-tastic bummer of a website launch.
But the very idea of well-being continues to change in a lot more ways than just the introduction of an online health exchange. Last week, the San Francisco chapter of the American Institute of Architects hosted a day-long symposium exploring what's next for the way we're cared for and how we care for ourselves. Here are four ideas from an afternoon PechaKucha exploring community, innovation, and design.
The city as gym
What if elements of urban architecture were designed to be used like fitness equipment—if we began to look at our cities as massive gyms designed for movement? Kinda like a Parkour perspective (for normal folks): we'd begin to see dual purposes in the existing structures all around us Benches are for sitting... but also for triceps dips. Buildings themselves could sport hidden features that enable people to get physical on a whim— like, say, monkey bars for a few pull-ups on the way to work.
Douglas Burnham, founder and principal of envelope A+D in San Francisco which acts as the architect, developer, and curator of Proxy in Hayes Valley, teamed up with the bootcampy Basic Training to successfully crowdfund a pop-up fitness hub in an unused parking lot incorporating exactly these kinds of concepts.
Patients are consumers; active, not passive
We're smack dab in the midst of a healthcare revolution. Wearable tech like FuelBands and Fitbits, and access to genetic info via firms like 23andMe (once they are FDA-approved, of course), gives consumers more power when it comes to their own well-being. Patients are active consumers, and healthcare experiences need to be designed with this in mind; they have to be charismatic, satisfying experiences, not just transactions.