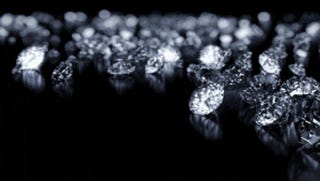 Hold on to your engagement rings. Diamonds, according to an industry report, are falling off a supply cliff in 2018. As existing diamond mines are depleted even as worldwide demand increases—thanks, especially to a newly rich Asia—three months' salary might soon buy you a much punier rock.
But look at the big picture: A diamond, after all, is just carbon arranged in a pretty crystal, and carbon is the fourth most abundant element in the universe. May we suggest a few other places to look for diamonds in this universe?
Under the ice in Antarctica
Named after the South African town Kimberly that inspired a 19th century diamond rush, kimberlite is a type of rock famous for containing diamonds. It initially forms deep in the earth, where the high heat and extraordinary pressure are also perfect for forming diamonds. Geologists recently reported vast kimberlite deposits in Antarctica's Prince Charles Mountains. They haven't dug up any diamonds yet, but it's very likely the gems are there, given the kimberlite.
Aside from ice over two miles thick and freezing temperatures, though, the prospective Antarctica diamonds are also protected by 1991 accord that prohibits mining on the continent. On second thought, maybe just head to the warmer temperatures of Siberia, instead.
In an once-secret crater in Siberia
Last year, the Russians revealed the existence of a 35-million-year-old, 62-mile wide crater full of diamonds in eastern Siberia. The crash that carved out the the crater, known as the Popigai Astroblem, had also released enough energy to turn some of the graphite into superhard diamonds. Because these "impact diamonds" were formed by a different process than most, Popigai's diamonds are especially superhard and most suitable for industrial uses. According to the director of the Novosibirsk Institute of Geology and Mineralogy, the deposit of superhard diamonds is bigger than all of the world's known reserves by a factor of ten. Now they just have to mine them.
The massive diamond field was first discovered in the 1970s, apparently, but the Soviets kept it secret because they were already busy with Mirny, the largest diamond mine in the world.
On Saturn and Jupiter, where it could be raining diamonds
Diamonds in the sky? How about diamonds raining down from alien atmospheres. According to calculations by two planetary scientists, the volatile high-pressure skies of Jupiter and Saturn are just right for creating diamond rain.