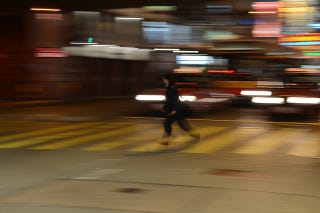 "Vision Zero," New York mayor Bill de Blasio's plan to eliminate traffic deaths in the city, is audacious but not unprecedented. Like almost all good social policies, the Swedes did it first. And we could learn a thing or two from them.
Sweden first introduced its own version of Vision Zero in 1997 as a plan to eliminate all deaths and serious injuries on the road by the year 2020. It's not quite at zero yet, but the number of traffic deaths has halved, dropping to a record low of 264 last year. Here are some lessons learned from Sweden as well as a few speculative ideas of our own.
Redesigned Highways: 2+1 Lanes
In the 1990s, Sweden began turning roads with two wide lanes into three narrow ones. How did this actually make them safer? The middle lane became a designated passing lane that alternates between each side, separated by a cable barrier. (The photo above is a road in Germany, which doesn't happen have such a barrier).
With an entire lane and sections of the road dedicated to passing, drivers could signal their intentions much more easily. It's estimated that these redesigned roads have saved 145 lives in the first 10 years of Vision Zero's in Sweden. The Transportation Research Board has recommended 2+1 roads in the U.S., especially on rural two-lane highways.
Redesigned Intersections: Diagonal Crosswalks
Pedestrians may have the right of way in crosswalks, but cars turning left or right have physics on their side. It's these turns that make crosswalks dangerous. Ergo "pedestrian scrambles" or an intersection design where all traffic stops at once, allowing pedestrians to cross in all directions, including diagonally.