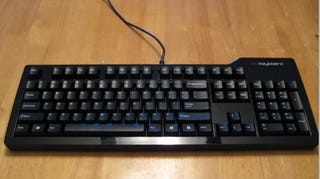 The Gadget: The redesigned Das Keyboard Professional with gold-plated mechanical key switches, n-key rollover, two USB ports and blue LED accents.
The Price: $129.99 ($99 Pre-order)
The Verdict: You may recall earlier versions of the Das Keyboard as a wacky typing aid with blank keys. Well, the third installment of the series is on its way, and this time the focus is on comfort, not gimmicks. As with the earlier versions, if you like an IBM Model M keyboard typing experience, you will love the Das Keyboard Professional. In other words, this keyboard provides a satisfying "click" sound with each keystroke and it has a very positive tactile feel. To be quite honest, it was one of the most comfortable keyboards I have ever typed on.