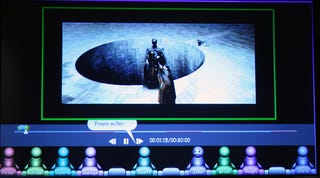 The video labs at AT&T's Atlanta HQ are not located on the higher floors of its 47-story Midtown Center where, between demos, you can casually scrape a view of the city through giant windows. You know, where you might expect to see the future of TV. Instead, they're buried down on the second floor in a building a few doors down, in a plain gray room, whose only exceptional attribute is a wall of TVs-eight total including two 60-inchers-which are hooked up to experimental U-verse IPTV DVR boxes. In this room, sitting on the single blue-green couch, you can stare up and see the future-TV-to-phone video calling, iPhones as remote controls, on-screen visual voicemail, MST3K-style chat while viewing and more-TV as you will hopefully know it in the next couple of years.
There's a chance you won't, actually, see this TV in a few years, at least served up from AT&T. Only 379,000 subscribers are currently hooked up to U-Verse TV, and it's not available to a whole lot more than that. Rollout is slow. But listening to Peter Hill, VP of voice and converged services, talk about what the company is working on for U-verse, you'd never know that everything he was showing me was just for a tiny, privileged sliver of TV viewers. (BTW, for a great hands-on cable vs. U-verse review to see what they're getting, check out this piece.)
The first thing I spot-and ask about-when I walk in is the Xbox 360 on the shelf, a ghostly reminder of the promise of a ubiquitous IPTV box. The status? Microsoft and AT&T have to "come to terms" on it. Whatever that means, but the shaky laughter dotting our exchange implies you'll probably never see it in the States. On to the real show.