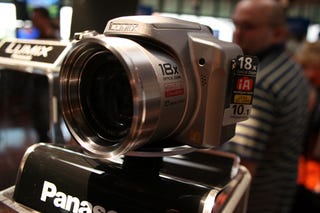 Panasonic has a nice set of digital camera summer sequels to last year's lineup. Here's the rundown, with full releases below:

•Panasonic's FZ28 updates its original 18x super-zoomer FZ18 with a higher res, and some new software features, autofocus tracking and more robust face detection, plus it shoots HD video, like every new Panasonic camera. Out in Aug. for $399.

•The ultracompact FX150 bulldozes the FX100 with a ridiculous 14.7-megapixel resolution (hopefully not with meteor-size noise, but probably), RAW recording, HD video shooting, and a 28mm wide-angle lens. Available Aug. for $399.

•Finally, the FX37's raison d'etre is its 25mm ultra wide-angle 5x zoom lens. It's tiny, has a 10MP resolution and also shoots 720p HD video. It's available in Sept. for $350.