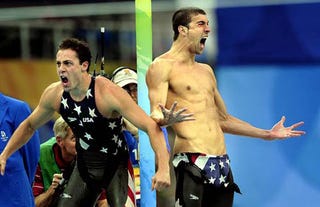 One of the benefits of living on the East Coast, besides the fact that it's simply better, is that we rarely suffer the pain of tape delays. So tonight we'll get to
watch Michael Phelps
snag his eighth gold medal,
live
tonight, at 10:59pm (which is 10:59am Sunday in Beijing). West Coasters will have a three-hour delay, and if they want to have the
illusion
of watching it live on their HDTV, basically crawl under a rock for those three hours. Unless you watch it on your PC. Here's are a few ways to watch it with the rest of the world (and our
Olympics watching guide
). The best way, usually, would be through the NBC Olympics site, which has decent quality for streamed video, even though it suffers its share of quirks. But they've decided to be jerkfaces and only show swimming on the tube:

To see other events live without a faux tape delay, the
first
time you go to the site, you've gotta give it an East Code zip code and cable provider, like 10003 (NYC) and Time Warner Cable. Then it'll think you're on the East Coast and give you the goods live. If you punch in a West Coast zip, you'll get hit with the three-hour delay. If you've already messed up, clear out your browser's private data, then try again. And
our guide
to the byzantine site will probably help you navigate it. The best option for Phelps is to use a proxy server to make the BBC or CBC think you're in the UK and Canada, and watch their live streams, which offer pretty good coverage generally.
Silicon Alley Insider
recommends
Xroxy
for its list of open proxies broken down by countries. Then you've gotta configure your browser,
detailed here
. If you find one that works (which might take a couple tries), verify you've actually teleported
here
. Remember kids, someone else owns the server you're running through, so don't put in passwords or credit card info while you're connected to the proxy. And be persistent! Another option, also from
Alley Insider
, though the video isn't that good, is
Alriyadiah saudi Sport TV
, which shows video on about a 10-minute delay. But you don't get to choose your event, so cross your fingers. If you've got other ideas or tricks, let 'em loose in the comments. Maybe next year NBC will have its shit together. Oh, and go Team USA! [
Silicon Alley Insider
]