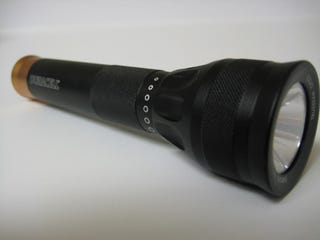 The Gadget: Duracell's new Daylite series of flashlights turn night into day using proprietary TrueBeam technology that they claim captures and projects up to 100 percent of the light-making for a brighter, whiter beam. It comes in three varieties: AA/AAA (80 lumens each) and CR123 (160 lumens).
The Price: AA/AAA ($25) and CR123 ($35)
The Verdict: For this review I am using the most powerful of the three new Duracell Daylite flashlights-the 160 lumens CR123 version. The bottom line is that this thing is blindingly bright and it gives off a clean white beam. Plus, it is small enough to fit in a pocket and it seems sturdy enough to take a beating.