Sony is trying to bargain with potential buyers of
Pioneer's $2,200 BDP-09FD
: For $200 less, you can get yourself the BDP-S5000ES. Meanwhile, it's equally intended to regain the love of all those home-theater enthusiasts who bee-lined it for the PS3 (rather than a dedicated BD player) because of its networking and speed.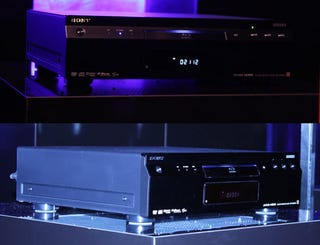 The Sony competes well with the Pioneer. Both are BD-Live capable with Ethernet, and have isolated audio circuitry for crazy-good sound. The Sony jacks the color depth up to 14 bits, while the Pioneer goes all the way to 16 bits. (Since no TV can display better than 10-bit color at this point, it's a funny spec race, but hey, one day your 20-bit TV will be laughing at both of them.) But like its gaming-system relative, the Sony also has a six-second startup and the famous don't-say-it-out-loud "XrossMediaBar," aka XMB, even better known as the menu system for PS3s. There's a lot more going on inside the player, as you can see below. But it's probably still not a match for the Pioneer, and it definitely
won't
play
Resistance 2
no matter how loudly you scream at it.
SONY DELIVERS ULTIMATE A/V EXPERIENCE WITH NEW ES BLU-RAY DISC PLAYER BD-Live Enabled Model Features New Technologies for Unsurpassed Picture Quality DENVER, Sept. 3, 2008 (CEDIA Booth #600) – Sony today announced the new BDP-S5000ES Blu-ray Disc™ player, featuring the company's newly developed HD Reality Enhancer and Super Bit Mapping technologies that deliver even sharper and more vibrant images from today's Blu-ray Disc movies. The model, which is fully BD-Live™ capable, features an Ethernet connection that allows users to connect to the Internet via their existing service provider to access BD-Live features and easy firmware updates. It also is equipped with an external flash memory port and includes a 1GB Sony Micro Vault™ Tiny flash storage device. The BDP-S5000ES also features Quick Start mode, improving boot-up times to approximately six seconds, which is seven times faster than previous models. "Sony's Elevated Standard, or 'ES' products stand for the very best Sony has to offer, and the BDP-S5000ES is no exception," said Chris Fawcett, vice president of marketing for Sony Electronics' Home Video Division. "Featuring the incredible build quality found on all Sony ES products, the S5000ES goes above and beyond traditional Blu-ray Disc players to deliver the ultimate home theater experience." Unique to the model is Sony's new 14-bit HD video processor, which improves standard definition and high-definition picture quality with the help of HD Reality Enhancer and Super Bit Mapping technologies. HD Reality Enhancer continually analyzes bit by bit of the original source, sharpening edges and reproducing detail, while reducing the effects of film grain. Super Bit Mapping delivers smoother color gradation realizing true 14-bit equivalent color tone from 8-bit sources connected via HDMI. Holding true to Sony's ES standard, the BDP-S5000ES was designed to match pristine video performance with exceptional audio. The model's analog audio circuit board is isolated from the video board to avoid interference. Additionally, the unit's rigid frame and beam chassis helps to reduce vibration and a low-leakage R-core transformer minimizes the interference of digital noise. Since many consumers own extensive DVD movie libraries, the BDP-S5000ES incorporates Sony's new Precision Cinema HD Upscale technology that converts standard-definition signals (480i) to 1080p and outputs a full HD equivalent resolution signal to 1080p TVs via HDMI. The model even improves analog component video output thanks to 14-bit/297MHz video D/A conversion. Additionally, the model adds Sony's new Precision Drive™ HD, which helps to detect and correct wobbling discs from three directions, stabilizing playback of bent or scratched Blu-ray Discs and DVDs. The model offers 7.1 channel Dolby® TrueHD, Dolby® Digital Plus, DTS® -HD Master Audio, and DTS-HD High Resolution Audio decoding and bit-stream output, as well as analog 7.1 channel output with Advanced Current Segment Audio D/A converters for legacy AV receivers and decoders. The BDP-S5000ES supports Deep Color video output and AVCHD discs encoded with x.v.Color™ (xvYCC) technology. The players also feature compatibility with an array of video formats, including BD-R/RE (BDMV and BDAV modes), DVD+R/+RW, DVD-R/-RW, CD, CD-R/RW (CD-DA format), and JPEG on BD/DVD/CD recordable media. The player also features Sony's XrossMediaBar™ (XMB) inspired graphic user interface for easy menu navigation, Sony's BRAVIA Sync™ for Theatre that connects select Sony home theater and television products for easy operation and a backlit remote control. For custom installation, the model also features RS-232C and IR input. The new BDP-S5000ES will be available in November for about $2,000 at Sony Style stores, online at sonystyle.com, and at authorized retailers nationwide. ###