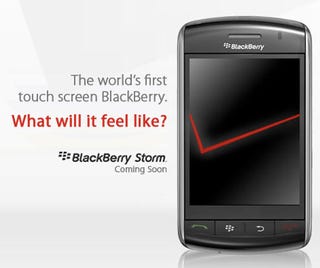 Want to be the first on your block with the "
world's first touchscreen BlackBerry
"? Though it does confirm the BlackBerry Storm's CDMA + GSM global capabilities (like the BB 8830 on Verizon and Sprint), Verizon's Storm sign-up page says very little else. All that's there is a window for you to drop your e-mail address so that you can be "first to know when it's available for purchase." Just promise not to forget about the little people when you're Mr. Big.
Update: The page is up, but the picture isn't visible. Either they're having technical difficulties, or some webmaster pushed the green button too early. Update 2: Yup, they pulled the sucker. Hope you got your e-mail address in there in time! Update 3: Looks like it's back up. Game on!
[
VZW Storm Page
]